Former Thai PM Yingluck Shinawatra flees rather than face court
Comments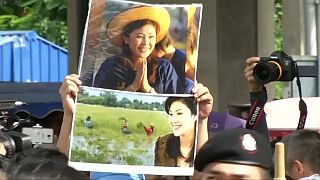 Former Thai PM, Yingluck Shinawatra's lawyer cut a lonely figure outside the supreme court. His client did not show up for her court hearing, pleading fluid on the ear.
Neither the government nor the supreme court judges believed that Yingluck is unwell.
One of the supreme court judges said "We don't think that the defendant is ill. We think that the defendant is hiding or has fled … We have pushed back the verdict date to September 27. She asked for sick leave not to show up today."
Sources close to the former leader have since confirmed that she has fled the country.
Rice subsidy scandal
The former leader's charged with negligence in connection with her flagship rice subsidy programme, under which farmers received a markup of up to 50% on their crops, leading to mountains of rotting, unused rice.
It's one of the reasons the powerful Shinawatra family still has such a loyal following amongst Thailand's northern poor and urban working class.
Thamrong Wongsira, a supporter of the powerful Shinawatra family told reporters:
"We still believe that former Prime Minister Yingluck carried out the rice scheme in the people and the farmers' interests. We hope that justice will be bestowed on her."
The military regime which ousted the former leader in a 2014 coup says the scheme was corrupt and cost the country nearly 7 billion euros.
Anyone at home? Yingluck Shinawatra's house, Bangkok after she failed to appear in court. Apparently she has vertigo pic.twitter.com/VhZyNwRUPu

— Jonathan Head (@pakhead) August 25, 2017
BREAKING: Thai court will issue arrest warrant for former Prime Minister Yingluck Shinawatra after she misses trial hearing.

— The Associated Press (@AP) August 25, 2017