Shinawatra trial opens in Bangkok
Comments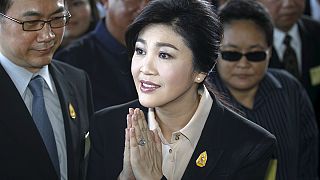 Thailand's former prime minister Yingluck Shinawatra entered the supreme court on Tuesday as she began her trial on what her supporters say are charges designed to get her out of politics for good.
She is accused of artificially inflating rice prices during her tenure and losing Thailand billions of dollars. She denies all the charges.
"I would like to say that we are really confident of my innocence and are confident to present the court with the evidence and the witnesses. Thank you," she said on arrival.
Yingluck's brother Thaksin was also hounded out of the same office and is now exiled abroad. She was toppled a year ago when the constitutional court found her guilty of abuse of power. In the following unrest the army took power.
The Shinawatras have called on their supporters to remain calm
and not take to the streets.