Blame game gathers pace after Barcelona attack
Comments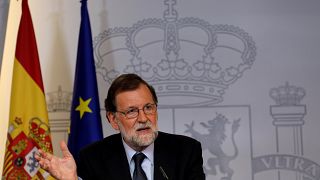 Catalonia's parliament observed a minute's silence on Friday in memory of the victims of terror in the Spanish region.
But as the dead were honoured, a blame game was gathering pace.
Carles Puigdemont, the Catalonian leader, said in a newspaper interview that the Spanish government had deliberately underfunded the region's police force.
"We asked them not to play politics with security … Unfortunately, the Spanish government had other priorities," Puigdemont told the Financial Times.
Catalan leader accuses Madrid of 'playing politics' with security https://t.co/nW5s2TDSis

— Financial Times (@FinancialTimes) 25 août 2017
Speaking on Friday, Spanish Prime Minister Mariano Rajoy was making a case for national and European unity.
He told reporters that Spain would ask the leaders of France, Italy and Germany to discuss cross-border counter-terrorism at a summit in Paris on Monday and said he wanted EU partners to "analyse current cooperation mechanisms … and look at options to boost and improve them".
Rajoy sought to play down the rift between his government and Catalonia's separatist leaders who plan an independence referendum in October that Madrid says would be illegal.
"Political unity is fundamental because it is what the victims deserve, it is what the citizens want and it prevents democratic societies being destabilised when this type of attack occurs," Rajoy said.
He urged Spaniards to demonstrate en masse in Barcelona on Saturday, to show rejection of terrorism, love for Catalans and solidarity with the 15 people whose lives were lost in Spain's deadliest attacks in over a decade.
Spanish King Felipe and politicians from both Madrid and Catalonia plan to attend.
Rajoy urges Spain to show its 'love' in anti-terror march https://t.co/bLptLVtBOOpic.twitter.com/okFq5uqU8U

— The Local Spain (@TheLocalSpain) 25 août 2017
with Reuters