Ladies and gentleman, we have a winner - US health care worker scoops a massive 643 million euros on the lottery
Comments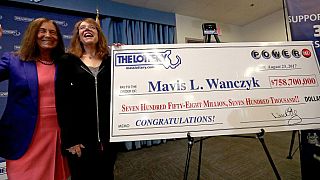 A 53-year-old health care worker from Massachusetts has won more than 643 million euros in a Powerball draw, the largest prize for a single ticket-holder in the contest's history.
At a news conference, Mavis Wanczyk said she "wanted to get this over and done with, and then everyone would leave me alone."
The mother of two has been working for the past 32 years at a Springfield hospital, but added: "I've called them and told them I will not be coming back."
"The first thing I want to do is I just want to sit back and relax," says Powerball jackpot winner Mavis Wanczyk https://t.co/c09wWxuvPPpic.twitter.com/pMLjoMqngF

—

WBZ

Boston News (@cbsboston) August 24, 2017
'My pipe dream came true': Mavis L. Wanczyk of Chicopee, Mass., is winner of $758M Powerball jackpot https://t.co/JTr7kTmERf

—

USA

TODAY

(@USATODAY) August 24, 2017
Powerball said on its website that the single ticket matched all six numbers drawn on Wednesday night: 6, 7, 16, 23, 26 and the Powerball of 4.
The winning ticket was sold at a Pride convenience store in Chicopee, which is located about 145 km west of Boston, according to the Massachusetts State Lottery.
The owner of that store plans to donate to charity the $50,000 prize he will receive for selling the winning ticket, the commission's executive director told reporters.
Wanczyk will have a choice of receiving annual payments over 29 years or a lump sum of more than 373 million euros, before taxes.
Beyond retiring early, she did not say how she planned to spend her winnings. The odds of a ticket having all six winning numbers are 292.2 million to 1, according to the Multi-State Lottery Association.