US Mega Millions: Loto fever's gripped the nation
Comments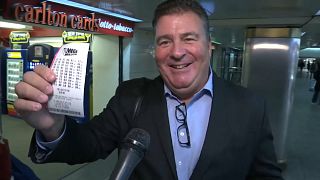 Lotto fever gripped the US on Friday but without a winner for the Mega Millions, hundreds of people are queueing to buy their lucky lottery ticket for a chance to win $1.6 billion (€1.3 billion). It's the largest jackpot in America's lottery history and will be drawn Tuesday.
Julia Valentina, Lottery Player says, "Maybe I lucky, you know, everybody play and maybe my lucky day! I so happy anyway."
Shearrod Duncan, Lottery Player says, "Probably buy a house, go on vacation, definitely not work anymore."
The odds of winning are less than one-in-300 million, so people are buying more tickets than normal.
But will it change people's lives for the better?
Well it certainly is giving people the chance of dreaming and the chance of a few days of excitement at the prospect of quitting work.
And if they don't win, maybe people will look to make changes to their lives anyway.
Phil Sparacino, Lottery Player says, "That's the winning ticket and if I do win this is the last time you will ever see me in Penn Station. Thank you and have a good day."