US Commander to be relieved of duties after spate of collisions
Comments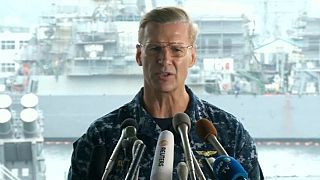 US officials say the Navy will stand the three-star Commander of its seventh fleet down after a series of collisions in Asia. Vice Admiral Joseph Aucoin has been in post since September 2015 and is believed to have been close to retirement anyway.
CONTEXT: Aucoin is being removed 3 wks erly frm a planned retirement to be replaced by a guy who was tapped in May. https://t.co/DrtrnIlyp0

— Sam LaGrone (@samlagrone) August 23, 2017
Admiral Scott H. Swift, the Commander of the US Pacific fleet, the country's largest overseas fleet of ships, is believed to be heading from Yokosuka, Japan to relieve Aucoin of his duties.
The news comes a day after the Navy took the highly unusual step of ordering a worldwide suspension of shipping operations.
The collision of destroyer John S. McCain with an oil tanker off the coast of Singapore left ten sailors missing. Divers have begun to recover human remains from inside the ship and a body has been found out at sea.
MT US7thFleet</a>: Divers join search for missing <a href="https://twitter.com/hashtag/USSJohnSMcCain?src=hash">#USSJohnSMcCain</a> Sailors, will access sealed compartments in ship - <a href="https://t.co/x9p2U2ASB3">https://t.co/x9p2U2ASB3</a> <a href="https://t.co/pxjOBKYFic">pic.twitter.com/pxjOBKYFic</a></p>— U.S. Pacific Fleet (USPacificFleet) August 22, 2017
It's the second fatal collision suffered by the fleet in two months. Seven died when another US warship, and the John S. McCain's sister vessel, the Fitzgerald, collided with a cargo ship near Japan in June.