Will Brexit mean Brexit in the courts?
Comments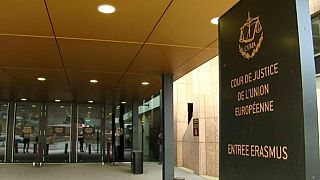 It was a key promise to Brexit voters: complete judicial independence for the UK when it left the European Union.
Back in January Prime Minister Theresa May said "We will not have truly left the European Union if we are not in control of our own laws".
Resentment of European legal institutions has tended to focus on the European Court of Human Rights, but many hardliners have long wanted to extract the UK from the jurisdiction of the European Court of Justice (ECJ) too.
I don't want to worry you guys but I'm not 100% convinced our Gov knows the difference between the ECJ (Justice) and the ECHR (Human Rights)

— Julie Owen Moylan (@JulieOwenMoylan) August 20, 2017
Government's current position more nuanced
However, new government documents cast doubt on this outcome.
Position papers published this week on trade and cross-border disputes give a commitment to build on existing legal cooperation with Europe, and to develop future judicial ties as necessary.
The UK Department for Exiting the EU said that areas where the need for cooperation might arise would include: "issues such as a small business that has been left out of pocket by a supplier based in another EU country, a consumer who wants to sue a business in another country for a defective product they have purchased online, or a person who needs to settle divorce child custody or child maintenance issues with a family member who is living in a different EU country."
A new European Court of Justice?
In practice this may mean the establishment of some sort of equivalent to the European Court of Justice. However, this is likely to be viewed as a concession too far by Brexit supporters, and many MPs within the Prime Minister's own party.
Could the ECJ still have some role in UK law? Watch our event on #Brexit, dispute resolution and the ECJhttps://t.co/BSivmKclkApic.twitter.com/F5n1X4spUo

— Institute for Gov (@instituteforgov) August 22, 2017