'Chibok girls' ready to return to their communities
Comments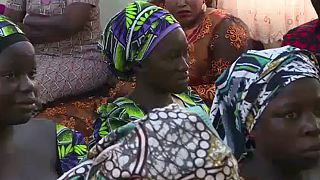 106 girls freed from Boko Haram militants in northern Nigeria are ready to reintegrate into their communities and go back to school.
Over 200 young women were kidnapped from the town of Chibok in April 2014.
Since May, they've been receiving medical treatment and counseling.
Throughout their captivity, the girls underwent traumatic experiences. Some were forced into marriage while others suffered severe bodily injuries.
"The girls have been provided psychosocial support services to help erase unpleasant memories and overwrite their traumatic experiences. So far they have been stabilized and most of their traumatic stress disorder symptoms have been overcome and previously frequent incident flashbacks, insomnia and nightmares have now been successfully brought under control." said Aisha Jummai Alhassan, minister of Women's Affairs in Nigeria.
The girls will attend the American University of Nigeria (AUN) foundation school in September. The school is in Yola, capital of the Adamawa state in the northeast.
"AUN has undoubtedly transformed the 24 escaped Chibok girls into the new foundation school, into world class students, capable of competing with undergraduates anywhere in the world. Some of them are now studying medicine in the area; some are in accountancy and other courses in the university," said the minister.
The kidnapping of the Chibok school girls drew international condemnation, and most importantly, has brought Boko Harams bloody campaign under the spotlight.
More than 100 of the kidnapped girls are yet to be accounted for. Boko haram claimed that some of them were killed in the cross-fire while others would simply not return home because they have been radicalized.
But campaigners for the release of the girls have refused to accept the claim and are pushing for more girls to be freed.