Down the pan: woman splits with husband over toilet failure
Comments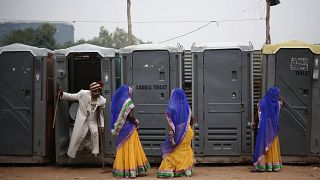 A woman in India has been granted a divorce from her husband …
… because his home did not have a toilet.
A family court in the northern state of Rajasthan ruled in favour of the woman, who argued that her husband's inability to provide her with an internal toilet for five years of marriage amounted to cruelty.
Judge Rajendra Kumar Sharma said village women generally endured physical pain while waiting for darkness to relieve themselves outside their homes.
The judge described the lack of sanitation as shameful and torturous, lawyer Rajesh Sharma told AFP.
Divorce in India is only permitted if evidence of cruelty, violence or unjustified financial demands are presented to the court.
This is not the first time a marriage has collapsed due to a lack of a toilet.
Last year, a woman refused to seal her union in Uttar Pradesh, northern India, after her fiancé had refused to build a toilet for the couple.
In June, another woman refused to return to her home until her in-laws set up a toilet.
The absence of sanitary facilities is a major public health problem in India, affecting nearly 594 million Indians, or almost half of the country, according to UNICEF.
Nearly 70 percent of Indian households do not have toilets.
Indian prime minister Narendra Modi has promised to build toilets in every home by 2019.
According to him, his government has built more than 20 million toilets since 2014.
Observers believe, however, that the problem lies not only in poverty, but also in an ingrained belief that the inner toilet is impure.