US comic and civil rights activist Dick Gregory dies at 84
Comments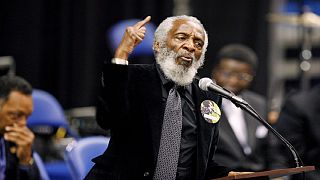 The US comedian Dick Gregory has died in Washington D.C after being hospitalised for a week.
He was 84. Gregory, who lived in Washington, suffered heart failure in Sibley Memorial Hospital.
"It is with enormous sadness that the Gregory family confirms that their father, comedic legend and civil rights
activist Mr. Dick Gregory departed this earth tonight in Washington, D.C.," his son, Christian, wrote on Instagram.
Gregory took an active role in the American civil rights movement during the 1960s and used his humour to break down racial barriers by spreading messages of social justice.
His success as a comedian helped paved the way for other black comics, such as Richard Pryor, to gain greater fame by reaching a mainstream audience.
He briefly sought political office, and ran unsuccessfully for mayor of Chicago in 1966 and US president in 1968.
Gregory's stand-up comedy tackled racism, often with quips that took his audience by surprise. "Segregation is not all bad," he once joked. "Have you ever heard of a collision where the people in the back of the bus got hurt?" If his comedy routine was at times disarming, his civil rights activism left no doubt where he stood.
Celebrities and friends pay tribute to comedian and activist Dick Gregory who died at age 84. https://t.co/BBKqq3NGj2pic.twitter.com/7WCJmPmlJ5

— Inside Edition (@InsideEdition) August 20, 2017