Sierra Leone mudslide survivors at risk of disease
Comments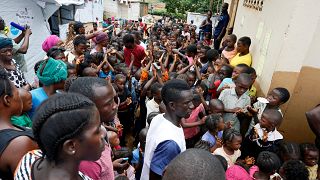 Survivors of Sierra Leone's devastating mudslide pump water from a contaminated well in the hilltop area of Juba on the outskirts of Freetown.
Aid groups are rushing to distribute water filters and buckets across the capital, in a bid to prevent an outbreak of waterborne disease.
Captain Sesay, Field Commander of the rescue and recovery operation, said keeping people from drinking dirty water is a top priority: "The major challenge we observed around the community living along the riverside is that, the people survive drinking water from wells by the riverbank. But we have stopped them from drinking the water because the waters are contaminated."
Local authorities are also working to register survivors, to ensure they receive the support they need.
The World Food Programme and other United Nations agencies are providing relief supplies, including food and medicine, but the government says they need more resources.
The death toll from the flooding that hit Freetown on Monday is over 450, with some 600 people still missing.
Many tragic stories as we talk to survivors. Some lost entire families. #sierraleone#freetown#freetownfloodspic.twitter.com/VDEHKk0B5e

— UN in Sierra Leone (@UNSierraLeone) August 19, 2017
Flooding is an annual problem in Sierra Leone and unsafe housing is often swept away during the rainy season.