Funeral held for 'Pakistan's Mother Teresa'
Comments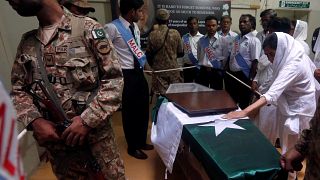 Mourners in Karachi on Saturday came to pay their last respects to Ruth Pfau, a German physician and nun who devoted her life to the eradication of leprosy.
Pfau moved to the country in 1960 and founded the Marie Adelaide Leprosy Center (MALC), Pakistan's first hospital dedicated to treating the disease.
"It is a big loss to this hospital and to humanity," MALC staff member Yasmeen Morris said. "It is very hard to find a person like her in today's era. Today, everyone thinks about themselves but she never thought about herself. She led a very simple life and she loved humanity."
Widely known as Pakistan's Mother Teresa, Pfau was given a state funeral and eulogised by the prime minister for her contributions to the country. Hundreds of supporters also attended the service at Karachi's St Patrick's cathedral.
Leprosy remained a problem in Pakistan until the mid-1990s. Pfau played a key role in efforts to bring the disease under control. She opened branches of the MALC across the country.
Pfau died on August 10, 2017, aged 87.