Who died in the Barcelona and Cambrils terrorist attacks?
Comments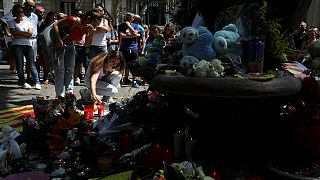 Officials say 35 different nationalities were among the dead and injured from van attacks in Catalonia.
The Barcelona attack saw 13 people killed, while one woman died at Cambrils.
Spanish authorities say 53 people remain in hospital, including 13 in a 'critical' condition and 20 'serious'.
Bruno Gulotta
The first victim to emerge on Friday was Italian father-of-two Bruno Gulotta.
His firm, Tom's Hardware, said the 35-year-old was killed in the Barcelona attack, although there has been no official confirmation.
"Our colleague and friend Bruno Gulotta was mowed down and killed by a terrorist in the heart of Barcelona," the firm wrote on Facebook.
His partner Martina spoke of how Bruno was holding the hand of his son, Alexandre, five, as he was hit.
Martina, who was carrying their daughter, Aria, one, managed to get both children to safety, according to AFP.
Notre collègue de TomsHWItalia</a>, Bruno Gulotta, a été tué par le terroriste islamiste de Barcelone. Pensées pour lui, sa femme, son enfant. <a href="https://t.co/rqu30vnK25">pic.twitter.com/rqu30vnK25</a></p>— Tom's Hardware FR (TomsHardware_Fr) August 18, 2017
Luca Russo
The Italian foreign ministry identified Luca Russo as the second Italian killed in the Barcelona attack.
It confirmed that he was on holiday with his fiancée, Marta Scomazzon, who sustained fractures but was not in a critical condition.
Russo was a 25-year-old engineering graduate, according to local media.
ANSA news agency said Scomazzon had told her aunt Lucia that she was stood next to Russo when the attack happened.
"We were walking together, then the van came up right behind us," she said. "I fell over and I noticed that Luca wasn't there anymore, I didn't see him again, his body was swept away."
Italian media also said both he and his fiancée were volunteers at the Green Cross.
One of the 14 victims of the Barcelona attack: Luca Russo from Italy. pic.twitter.com/rrRKyp6rqK

— Domenic Fazioli (@DomenicFazioli) August 18, 2017
​Carmen Lopardo
​Carmen Lopardo, 80, who held Italian and Argentine nationality, was on holiday in Barcelona and died in the attack, according to Argentina's foreign affairs ministry.
Julian Cadman
The family of Julian Alessandro Cadman, a British-Australian boy, had taken to social media to appeal for information about the seven-year-old, who had been separated from his mother in the attack.
He was confirmed dead by Spanish civil protection authorities on Sunday.
His mother, 'Jom' Cadman, was injured in the attack and is in a stable condition in hospital.
Ian Moore Wilson
Canadian Prime Minister Justin Trudeau has confirmed a Canadian citizen was amongst those killed in Thursday's attack in Barcelona.
Ian Moore Wilson was on holiday in Barcelona with his wife of 53 years, Valerie, according to his daughter.
Fiona Wilson, a staff sergeant at Vancouver Police Department, said: "My dad, Ian Moore Wilson, was a much-loved husband, father, brother, and grandfather, who lived a healthy, active life alongside his partner of 53 years, my mum, Valerie. He was compassionate, generous, adventurous, and always game for a lively debate, a good book, exploring new places, and a proper-sized pint.
"In the midst of this tragedy, my dad would want those around him to focus on the extraordinary acts of human kindness that our family has experienced over the past several days, and that is exactly what we intend to do.
"These are the things we will choose to focus on when we endeavour to come to terms with the senseless violence and acts of hatred that have taken loved ones before their time. My dad's passing leaves an immense void in our tight-knit family. He was desperately loved by us all and will be dearly missed."
Trudeau also confirmed four other Canadians were injured.
From the daughter of Ian Moore Wilson, Canadian victim of Barcelona attack, a touching tribute. "Focus on the kindness." pic.twitter.com/aVjmQZYKLS

— Thomas Daigle (@thomasdaigle) August 19, 2017
Elke Vanbockrijck
Elke Vanbockrijck from Belgium, who was on holiday with her husband and two sons, aged 10 and 14, was among those killed, according to Sudpresse.
Francisco López Rodríguez
Rodríguez was the first Spanish victim to be named, according to El País.
The 60-year-old Granada native was walking on Las Ramblas with his wife, who was seriously injured.
Spanish grandfather Francisco Lopez Rodriguez killed in #Barcelona terror attack https://t.co/9TX8a4zj4dpic.twitter.com/y7o1qBphZL

— HuffPost UK (@HuffPostUK) August 18, 2017
Pepita Codina
The second Spanish victim to be named was Pepita Codina, 75, from the town of Sant Hipòlit de Voltregà.
A Twitter post by the town's mayor confirmed the death.
Ana Maria Suarez
Ana Maria Suarez, 61, from Zaragoza, Spain, was the third Spanish person to be killed in the attacks.
She died after being hit by a vehicle in Cambrils, report El Pais.
Silvina Alejandra Pereyra
A 40-year-old woman, Silvina Alejandra Pereyra, with dual Spanish-Argentinian citizenship was among the dead, Argentina's foreign ministry said. She was a resident of Barcelona.
Silvina Alejandra Pereyra, de 40 años, trabajó cinco en la frutería Vidal Pons 1897 https://t.co/TRMlpU7jT2 Una de las víctimas del atentado

— EL PAÍS (@el_pais) August 19, 2017
Jared Tucker
A man from the San Francisco area, on a delayed honeymoon, was among those killed in Bacelona, his family said.
Jared Tucker, 43, had gone to Barcelona to celebrate his first anniversary in the form of a belated honeymoon when he became separated from his wife as they were walking, his father, Dan Tucker told KGO television in San Francisco.
Jared Tucker's wife, Heidi Nunes Tucker, told the station that her husband had gone to find a toilet when the attackers struck, ploughing into a crowd of pedestrians with a van.
Tucker, who lived in East Bay suburbs of San Francisco, leaves behind three daughters, the television station reported.
Jared Tucker was on vacation with his wife when they became separated in the chaos during the attack https://t.co/J0UaOWAhgG

— New York Post (@nypost) August 18, 2017
Unidentified or unconfirmed cases
Portuguese citizens Two people from Portugal died in the Barcelona attack, according to authorities. A woman, 74, from Lisbon, who was holidaying in Barcelona with her grand-daughter, 20, was among the victims, according to the country's prime minister Antonio Costa.