Trump's new controversy over Barcelona attack tweet
Comments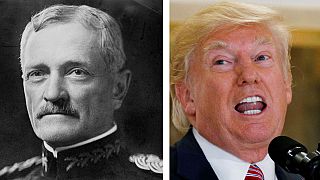 Donald Trump has landed himself in fresh controversy over a tweet he sent in the aftermath of the Barcelona terrorist attack.
After condemning the violence and sending his love to Spain, he made reference to US General John Pershing.
He urged people to study the story of Pershing, who served in the Philippines when the country was a US colony in the early 20th century.
Study what General Pershing of the United States did to terrorists when caught. There was no more Radical Islamic Terror for 35 years!

— Donald J. Trump (@realDonaldTrump) August 17, 2017
Trump was thought to be referencing the debunked myth that Pershing, around 1911, crushed a Muslim revolt by shooting all but one of the insurgents with bullets dipped in pig's fat. The spared individual is then said to have returned to his community to recount what happened, thereby discouraging anyone else to rise up.
However experts say it is false: here, here and here.
They say there is no evidence the story happened, and that, even if it did, it would not have had the pacifying effect on terrorism that Trump claimed in his tweet.
Time magazine says, however, there were reports of Pershing burying Muslims with pigs or throwing pig's blood on them, a practice one historian said was part of 'deliberate efforts to offend Muslim Filipinos' religious sensibilities.
It's not the first time Trump has referenced Pershing – he spoke about him on the presidential campaign trail, too.
In an editorial, the New York Daily Post, wrote: "What's deeply troubling here is not only that Trump continues to lie about an issue where he has been corrected time and again. It is that he is advocating that those fighting Islamist terrorists — including our own troops — commit atrocities such as executing prisoners and burying them with pig's blood."