Kagame sworn in for another term leading Rwanda
Comments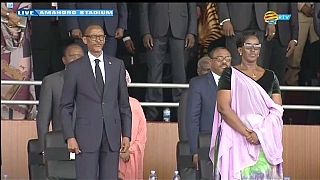 Rwandan President Paul Kagame has been sworn in, retaining office following his election victory earlier this month.
He has been the leader of his country since a first election win in 2000, and no credible challenger has appeared due to a mixture of iron rule, economic results, and say his critics an authoritarian style suspected of silencing opponents.
Some of his methods are open to question. But Kagame sounded unapologetic for Rwandans doing things their way, speaking in front of a crowd that included several African heads of state and former leaders.
"We have made progress thanks to the distinctiveness of our choices and the resilience of our people," he said.
From a murderous basket case in the 1990s riven by tribal genocide Kagame has helped haul Rwanda back from the brink and it now has a growing economy and social development indicies on the rise. The price has been a military unafraid to intervene in neighbours' affairs, notably in the Democratic Republic of the Congo, and few obvious checks and balances.