Something in the water - and it's turning dogs blue
Comments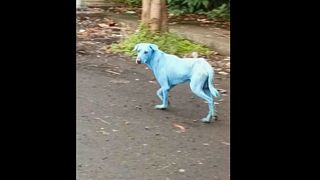 A strange thing is happening to dogs in the Indian township of Navi Mumbai – they've started to turn blue.
At least five bright blue dogs have been spotted and animal rights group are blaming industrial pollutants in the nearby Kasadi river.
They say the dogs are exposed to untreated blue dye when they wade through the water to cool off or search for food.
Dogs turn blue in Mumbai suburb. It could be the waterhttps://t.co/WeadqrnaHYpic.twitter.com/QyN7PRkWNU

—

NDTV

(@ndtv) August 17, 2017
Hundreds of factories operate in the area and release waste into the river.
No other creatures are known to have changed colour but activists say other animals living near the water could have also been harmed.