South Africa issues 'red alert' to stop Grace Mugabe from leaving country
Comments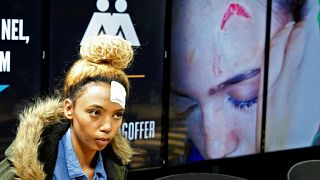 South African police say they are waiting to see whether Grace Mugabe is granted diplomatic immunity before taking the next step in their inquiry into alleged assault by the Zimbabwean first lady on a young model. A senior police source said their investigation was complete but they were not preparing an arrest warrant at this stage.
Other reports said police had put a "red alert" on South Africa's borders to prevent any attempt by Grace Mugabe to flee the country. "We had already put tabs on the borders, in relation to her leaving the country, so there's no question about that, Police Minister Fikile Mbalula told reporters.
The 52-year-old has asked for diplomatic immunity, although she has not been charged. Her whereabouts were not known to the authorities.
The alleged victim, 20-year-old Gabriella Engels, appeared at a news conference on Thursday alongside her mother and a prominent lawyer who said he was ready to represent her.
Gerrie Nel, a former state prosecutor who secured the murder conviction of athlete Oscar Pistorius, said the family had been kept in the dark about the investigation and implied that it had been offered a bribe.
"The family has even been approached via a third party to accept an amount of money to settle this. And the family is not interested in doing that and we will definitely assist," Nel told reporters.
Engels has accused Zimbabwe's first lady of barging into a Johannesburg hotel where the model was meeting with Mugabe's sons, and whipping her with an electric cord. The alleged victim's mother Debbie has released graphic pictures of her daughter's injuries, showing gashes to the head and bruises on her body.
Police say Grace Mugabe was due in court on Tuesday under a deal struck with the authorities, but failed to turn up.
The issue is causing diplomatic waves at the highest level. On Wednesday police said Grace Mugabe would be "processed through the legal system".
President Mugabe, 93, arrived in Pretoria late on Wednesday for a regional summit.