Ex-Islamist rebel liable for 2.7 million euros damages over Mali rampage
Comments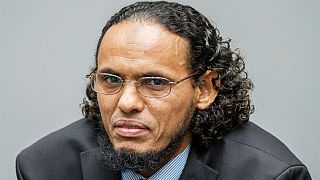 A former Islamist rebel, jailed for wrecking holy sites in Timbuktu, has been declared liable for damages of 2.7 million euros ($3.2 million).
Amad al-Faqi al-Mahdi was sentenced to nine years in 2016 by the International Criminal Court in the Hague, which delivered the landmark compensation ruling on Thursday.
"These collective reparations can also include symbolic measures such as a memorial, commemoration or forgiveness ceremony to give public recognition of the moral harm suffered by the Timbuktu community and those within it," said presiding judge Raul Pangalangan.
He said action such as the attacks on the shrines "destroys part of humanity's shared memory and collective consciousness, and renders humanity unable to transmit its values and knowledge to future generations".
The historic city was occupied by Islamist militants in 2012. Tuareg rebels seized part of the north of Mali, imposing a strict interpretation of Islamic law. French and Malian troops pushed them back the following year.
ICC Orders Ex-Islamic Radical to Pay Damages for Destruction of Mali Shrines https://t.co/ldYUcireiupic.twitter.com/OQ31d1DQtj

— The Voice of America (@VOANews) 17 août 2017
At his trial, Al-Mahdi admitted war crimes for his involvement in the destruction of 10 mausoleums and religious sites in Timbuktu. The sites date from Mali's 14th-century golden age as a trading hub and centre of Sufi Islam, a branch of the religion seen as idolatrous by some hardline Muslim groups.
He expressed remorse in a request for forgiveness which the ICC recognised as "genuine, categorical and empathetic".
Al-Mahdi said he had been swept up in the excitement by al Qaeda and the Ansar Dine Islamist groups, and that he was morally confused when he damaged the ancient sites.
Because he is behind bars and can't afford to pay the damages, the court has asked the ICC's Trust Fund for Victims to do so.
The money will go to the Timbuktu community in the form of educational programmes, economic aid schemes and possibly a memorial.
with Reuters