Baby flamingo takes blue booties in his stride
Comments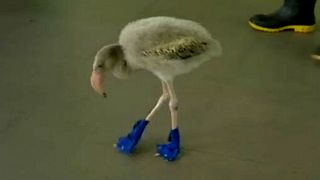 A wildlife park in Singapore is taking drastic steps to get a baby flamingo back on his feet.
Keepers at the Jurong Bird Park have raised the bird, known as Squish, since he hatched from an abandoned egg nearly three months ago.
Now they have kitted him out with special booties to protect his feet on the daily walks required to give him the strength and sunlight he needs before joining the other flamingos at the complex, managed by Wildlife Reserves Singapore.
A great big ❤️ from our flamingos.
Photo by eyesthruthelens pic.twitter.com/9fWcwT0eup

— Wildlife Reserves SG (@tweetWRS) 22 septembre 2016
"When his feet are okay (strong enough), we will send him back into the flock and hopefully he will be able to integrate with them," said animal care officer Gerard Wan.
Squish's walks around the park with his keeper expose him to hot, hard surfaces which are a far cry from the cool, wet mudflats of the bird's native South Africa, hence the need for footwear.
The sight of a flamingo strolling in blue booties is an eyebrow raiser for visitors, of course.
But Squish seems to know his strolls are a step in the right direction and is taking it all in his stride.
with Reuters