UK's largest aircraft carrier docks at home port
Comments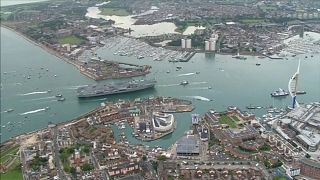 Britain's new flagship aircraft carrier HMS Queen Elizabeth has arrived at its home port in Portsmouth in southern England to great fanfare.
A fleet of vessels and helicopters accompanied the ship as it approached the harbour at the naval base, where the 280-metre vessel will be based for its estimated 50-year lifespan.
Watch the historic moment HMS Queen Elizabeth HMSQNLZ</a> entered her new home for the first time. Full story: <a href="https://t.co/J4inB7JL6i">https://t.co/J4inB7JL6i</a> <a href="https://t.co/xDgdWIB0T5">pic.twitter.com/xDgdWIB0T5</a></p>— Royal Navy (RoyalNavy) August 16, 2017
Costing more than three billion euros, it's Britain's most advanced and biggest warship, and although the defence ministry is facing massive budget cuts, the UK Prime Minister Theresa May said it will play a key role upholding global peace and security: "Britain can be proud of this ship and what it represents. It sends a clear signal that as Britain forges a new, positive, confident role for ourselves on the world stage in the years ahead, we are determined to remain a fully engaged global power working closely with our friends and allies around the world."
The ship is still undergoing sea trials and can't deploy any planes but flying trials from its deck are due to begin next year, with the ship expected to be fully operational in 2023.
HMS Queen Elizabeth compared to her international sisters. pic.twitter.com/KEJaWXmKv4

— UK Defence Journal (@UKDefJournal) August 15, 2017