Wild puma found sheltering in an office in Brazil
Comments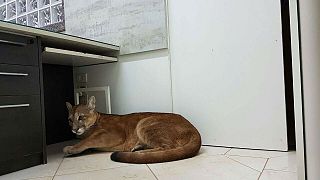 Whilst there may be a growing trend for pet friendly officers, finding a Puma under your desk will probably not promote the stress free, morale boosting atmosphere intended.
Staff at a factory in Itapecerica da Serra, a small town near Brazil's biggest city Sao Paulo thought best to call in the local fire service after they discovered a dark brown puma curled up on the office floor.
Pictures posted on the firefighters' Facebook and Twitter pages showed the large feline peeking over the edge of a desk. In a video, it can be heard growling and roaring at the emergency services.
"We believe the puma came out of its habitat to take shelter in the office because of constant wildfires in the region," the Sao Paulo state fire department said on Facebook.
"We received several calls around 7:00 am and the staff, who looked scared, locked up the room while they waited for our arrival."
After being captured, the puma was taken to Mata Ciliary, a non-governmental organization specializing in wild animal rescues.