Sterling drops to new low against euro
Comments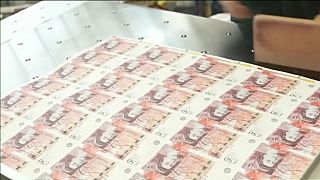 Sterling has fallen to its lowest level in 10 months against the euro and is soon expected to reach level parity.
The pound dropped 0.13 percent against the euro to 91.02 cents. Sterling also slipped against the dollar, dropping more than a cent to $1.2860.
Weak inflation data and worries over protracted Brexit negotiations have prompted investors to pile negative bets against the
British currency.
It comes amid on growing concerns that a struggling economy will force the Bank of England to stick to a dovish policy stance in the coming months.
James Hughes, chief market analyst at GKFX said: "The issue for the economy is the fact that RPI (retail price index) is rising at 3.6 percent. Inflation is rising at 2.6 percent but wages are still very stagnant. Average earnings are still at 1.7-1.4 percent. So the fact is we still have inflation going much quicker than what we have anything have. Wages moving so that is a problem for the economy."
Wage numbers on Wednesday should offer more clues on how the economy is performing.