Real await appeal decision over suspended Ronaldo for Spanish Super Cup
Comments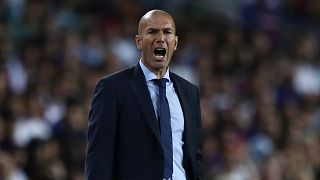 Real Madrid host arch-rivals Barcelona in the second leg of the Super Cup on Wednesday night with a 3-1 cushion from Sunday's first leg.
The classico's are always hotly contested and the hefty suspension of Real's star man Cristiano Ronaldo has been overshadowing preparations for the match.
In a pre-match press conference Real coach Zinedine Zidane said he's extremely angry over the five match ban: "I'm not going to have a go at the referee but when you see what happened. Anyway, we're waiting for the appeal committee's decision. But to think that Cristiano's not going to be with us for five matches,… something's happened and I'm very annoyed."
Ronaldo received a yellow card when he took off his shirt after scoring goal, then a second moments later for diving. After he was ordered off, he pushed the ref which led to the suspension, but if the appeal is upheld he could end up featuring in the second leg at the Bernabeu.