Over 400 taken to hospital after a chlorine gas leakage in Iran
Comments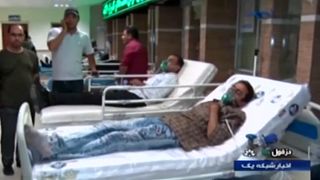 More than 400 people suffered respiratory and other health problems after a chlorine gas leakage in the south of Iran.
The 462 victims were taken to hospitals in the city of Dezful, some 500 miles (805 kilometres) southwest of the capital Tehran.
Forty-five people were hospitalised and the rest were released.
The gas leaked from reservoirs in an abandoned warehouse of a local water supply company in Dezful city.
Local hospitals and medical teams have been on full alert in Dezful following the incident.
Dezful, with its population of 250,000, is located in oil-rich Khuzestan province.