Singer Glen Campbell dies aged 81
Comments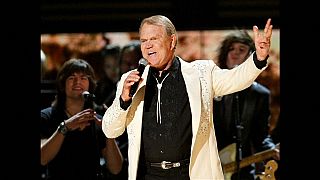 The 'Rhinestone cowboy' singer, Glen Campbell has died aged 81. He was diagnosed with Alzheimer's disease in 2011.
Dolly Parton said the singer, actor and TV host was special because he was so gifted with "one of the greatest voices there ever was in the business."
"And he was one of the greatest musicians. He was a wonderful session musician as well, a lot of people don't realize that. But he could play anything and he could play it really well. He was just extremely talented."
Glen Campbell was one of the greatest voices of all time. I will always love you, Glen! pic.twitter.com/LQFEWA42lF

— Dolly Parton (@DollyParton) August 8, 2017
Fans paid tribute to Campbell on the Hollywood walk of fame. He was one of the biggest stars of the late 1960s and 1970s, selling more than 45 million records, with 12 gold albums and 75 chart hits.