Several die in election violence in Kenya
Comments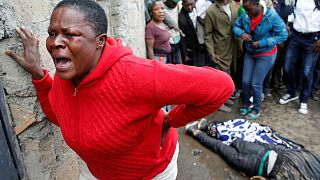 Kenyan security forces have used teargas and batons to disperse opposition supporters in areas in and around Nairobi as the counting from Tuesday's election continues.
Several people are believed to have died in sporadic violence.
Police shot dead at least protester while another was killed in an incident involving a machete-wielding gang.
Most of the unrest has been in opposition strongholds as the Kenyans hope nervously to avoid a repetition of the ethnic killings that followed a disputed 2007 presidential poll.
Meanwhile Kenya's electoral commission has dismissed claims by opposition leader Raila Odinga that its systems had been hacked to produce a "fictitious" lead for incumbent President Uhuru Kenyatta.
International monitors are on hand including former US Secretary of State John Kerry to assess whether the election has been free and fair.
Commission estimates put Kenyatta in the lead with around 54 percent.