Opposition protesters tear-gassed in Kenya
Comments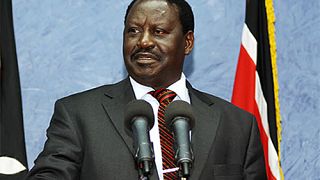 According to witnesses, Kenyan police have fired teargas at a group of 100 chanting supporters of opposition leader Raila Odinga, shortly after their political leader claimed "massive" electoral fraud in the elections.
The unarmed men, chanted "No Raila, no peace".
As Kenya's polls closed and counting began, the election board reported that Kenya's existing president had taken an early lead, but opposition leader Raila Odinga from the National Super Alliance already dismissed the numbers as 'fake', and said their own tally showed that they are winning. In a news conference, Odinga claimed that hackers broke into Kenya's election commission computer systems overnight, leading to "massive and extensive" vote fraud. He urged his supporters to remain calm, but added: "I don't control the people".
Kenya opposition rejects poll results showing president in lead https://t.co/wklvcdRoy6pic.twitter.com/rKzRXvsBQS

— Reuters Top News (@Reuters) August 9, 2017
With most of the votes in, Kenyatta is reported as on about 55% compared to Odinga with 45%.
Kenyatta's Jubilee party dismissed Odinga's comments as 'disingenuous' as they believe that they had got what they wanted out of court proceedings over vote counting after the previous elections.
Tuesday's contest between President Uhuru Kenyatta, a wealthy 55-year-old businessman, and Raila Odinga, a 72-year-old former political prisoner, was a hard-fought election. With fears of violence realised, many will be hoping that things will not escalate further.