Syria investigator Del Ponte tells Euronews why she quit
Comments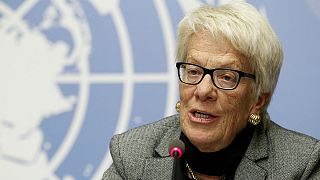 With the Syrian conflict in its sixth year, a member of the UN independent commission on Syria says she is quitting.
Carla del Ponte blames a lack of political backing from the UN Security Council on her decision. She said it made her job of gathering evidence of alleged crimes against civilians "impossible."
Del Ponte had also prosecuted war crimes in Rwanda and former Yugoslavia.
The UN secretary general said he regrets Del Ponte's resignation.
Carla Del Ponte spoke to Euronews correspondent Claudio Rosmino on the phone.
"First, I want to thank the UN Secretary-General, who has a thought for me…. It means that in spite of everything it is a very important issue, in the sense that we are in the seventh year of gathering evidence of crimes committed in Syria and the Security Council hasn't made a decision."
Q: "What was the main problem?"
"The security council is blocked because Russia uses the right of veto, it is a political situation indeed . There are several countries that are involved in this conflict and, of course, their political interests are expressed in the Security Council resolutions"
Q: "How do you consider the conflict in Syria compared with others you have dealt with in the former Yugoslavia and in Rwanda?"
"In the case of the former Yugoslavia and Rwanda, six months after the first report, the Security Council had reacted and done something, but here nothing has happened after seven years. This is the scandal, this is the big shame for the international community. Then, if we look at the kind of crimes, and I've seen so many (in my career), I have never experienced such a cruelty, such a ferocity, I've never seen anything like it."