Venezuela prepares for inauguration of new constituent assembly
Comments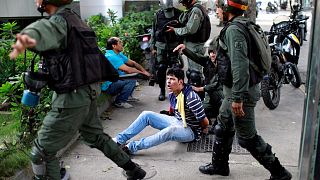 After four months of violent protests resulting in the deaths of more than 120 people, and hundreds of thousands of anti-government demonstrators taking their anger at President Nicholas Maduro onto the streets, the country is nearing a showdown.
"If Venezuela's freedom is worth death, we are willing to give our lives for our country," says one opposition supporter. "If they want war, That's what they'll have."
A growing list of foreign nations has refused to recognize the new constituent assembly.
María Corina Machado is the ''Vente'' Party Leader. "Here are people standing for civic rebelion, and today we finally have the whole world saying that there's a dictatorship in Venezuela that has to go, we have achieved what we have been fighting for, for years: division within the Chavez supporters," she says.
Venezuelan prosecutors have asked a court to suspend Friday's inauguration of the new constituent assembly over claims of electoral fraud.
Gabriela del Mar Ramírez, is a Public Defender. "If the opposition and the CNE have a meeting and they settle all the steps that were missed in the assembly's fraudulent election, then the governors the people chose will win," she says.
Our correspondent Eduardo Salazar Uribe is in Caracas.
He says the first meeting of the 545 delegates is expected to convene Friday at the legislative palace in Caracas just metres from where the opposition-controlled National Assembly sits. Anti-government leaders are calling on Venezuelans to protest Friday as the new constituent assembly members take office.