Trump pressured Mexico on border wall payment according to leak
Comments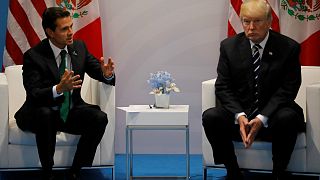 Transcripts of phone calls between US President Donald Trump and leaders of Mexico and Australia have been leaked by the Washington Post.
On 27th January in a phone call to Mexican president, Enrique Pena Nieto, Trump urged him to stop publicly saying he would not pay for a proposed border wall.

Opinion: Why the leaked presidential transcripts are so frightening https://t.co/XWq8E5s0Y6

— Washington Post (@washingtonpost) August 3, 2017
The US President berated him for publicly denouncing the wall, reportedly saying to him "You cannot say that to the press."
Trump launched his presidential campaign on a promise to build a wall along the US southern border and vowed to make Mexico pay for the project.
Transcripts of his first call with Australian Prime Minister Malcolm Turnbull were also published revealing a tense exchange.

On Jan. 27, Trump announced the entry ban. The next day he had a testy call with Australian Prime Minister Turnbull https://t.co/JHCOsI2O07pic.twitter.com/rd4BxOPB4f

— Post Graphics (@PostGraphics) August 3, 2017
Mr Trump told Mr Turnbull a deal for the US to take on refugees headed for Australia was "ridiculous", "rotten" and "stupid," insisting the deal, brokered under the Obama administration, would make him look like "a dope" after he had proposed a ban on refugee resettlement in the US.
Mr Trump ended the call after telling Mr Turnbull "this is the most unpleasant call all day."