No sweets in this vending machine, but oysters yes!
Comments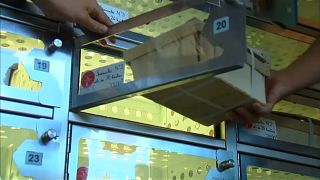 The person who invented vending machines probably never imagined this: fresh oysters at the flick of a coin – well, actually, with a bank card.
The novel sales idea has taken off at an oyster farm on the Ile de Re island on France's western coast.
A space for the refrigerated vending machine at 'L'Huitriere Re' remains open 24/7, with a variety of oyster types and sizes on offer.
One customer said: "Honestly it's great, 24 hours a day. We can come at midnight if we want, if we have a craving for oysters. It's excellent; they're really fresh."
The owner of the farm, Tony Berthelot, said: "We really felt as though we were losing lots of sales outside working hours.
"This type of distribution corresponds with how young people consume, extremely fast, whether online or in shops.
"It fits in with their generation and helps rejuvenate the mindset and our client base, which is important for the future."
A great idea for the seaside – and perhaps food for thought for other producers looking for ways to boost their sales.