Two killed, nine hurt in Minneapolis school explosion
Comments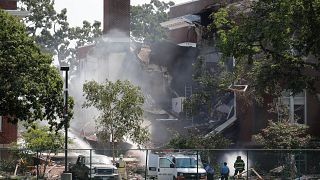 Two people were killed and nine injured after a gas explosion tore through a Christian private school in Minneapolis, in the US state of Minnesota.
Authorities said the blast started a fire and caused a building to collapse.
AERIALVIDEO of building explosion, collapse at Minnehaha Academy. Authorities now say 3 missing. https://t.co/TzmfstCkqKpic.twitter.com/Qai9KVkHMo

—

KARE

11 (@kare11) August 2, 2017
The body of a school employee was recovered from the rubble at the Minnehaha Academy about 10 hours after the explosion, Minneapolis Fire Chief John Fruetel told a news conference.
The Minneapolis Star-Tribune reported that the remains removed earlier in the day were those of Ruth Berg, a 47-year-old receptionist at the school who was engaged to be married.
Family members also told local news channel KARE that John Carlson, an 81-year-old custodian, was missing and that no one had been able to reach him.
Second body pulled from rubble at Minnehaha Academy, two now confirmed deadhttps://t.co/HfFjcwoDcUpic.twitter.com/S9gQo8EZe6

—

KARE

11 (@kare11) August 3, 2017
Fruetel declined to identify either victim pending notification of their families.
The nine people who were injured were taken to local hospitals, and one was in critical condition, Fruetel added.
School was not in sessions because of the summer break. "It would have been dramatically worse … we were pretty lucky in that sense," he said.
Ruptured gas lines
Authorities said contractors were working on the building's gas lines at the time of the explosion.
"This is a day of extraordinary heartbreak in Minneapolis," Mayor Betsy Hodges told reporters.
The academy confirmed on Facebook that there had been a gas leak and explosion at its Upper School.
Paul Meskan, who lives across the street from the school, said he was outside gardening and the children were out playing soccer when he heard the explosion.
"It felt exactly like a sonic boom, and compression, and a bang and all you saw was a cloud of smoke, dust, debris. I just took off running," he said. He and other neighbours helped pull people out of the rubble.
The federal Bureau of Alcohol, Tobacco, Firearms and Explosives said on Twitter its agents, fire investigators and trained canines were at the site of the explosion.
According to its website, Minnehaha Academy was founded in 1913 and teaches more than 800 students from pre-kindergarten through 12th grade on two campuses.
My thoughts are with the Minnehaha Academy community. Thanks to the MinneapolisFire</a> & rescuers hard at work in MN. <a href="https://t.co/rR7SXBYn74">https://t.co/rR7SXBYn74</a></p>— Sen. Al Franken (SenFranken) August 2, 2017