Student on trial for 'insulting' Thai King
Comments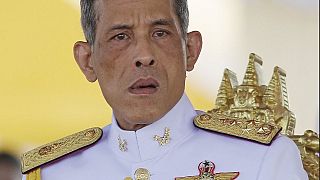 A trial has begun in Thailand of a law student arrested after sharing an article about the country's new King on Facebook.
Jatupat Boonpattararaksa shared a critical profile posted on Facebook by the Thai-language service of the BBC.
He was arrested in December and charged with insulting the monarchy.
Jatupat is a member of a student group that has organised protests against Thailand's military government.
The trial is being held behind closed doors.
Jatupat's father, Viboon Boonpattararaksa, told reporters: "Once the testimonies are given, the court and others can see whether or not he has committed such a serious crime, by just sharing news from the BBC.
"And if you consider all other evidence it should be clear that Pai (Jatupat's nickname) has no reason to flee, therefore, there is no reason to deny his bail."
Jatupat faces up to 15 years in prison.