New images of Air Canada near miss revealed
Comments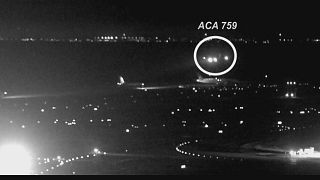 Newly released data and images show how close an Air Canada flight came to crashing into planes in San Francisco.
The Airbus A320 from Toronto was reportedly cleared to land on a runway at the airport just before midnight on Friday. But instead, the pilot of flight AC759 inadvertently lined up to land on a parallel taxiway where four planes were waiting to depart. The Air Canada plane was estimated to have flown over the planes on the taxiway by as little as 30 metres.
U.S. National Transportation Safety Board investigators said they have not determined probable cause for the incident that came within a few metres of becoming the worst aviation disaster since the collision of two B747 planes in the Canary Islands in 1977.