Brazilian President survives congress corruption vote
Comments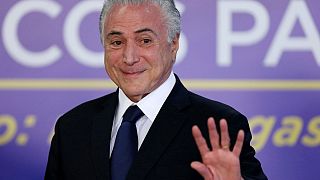 The Brazilian House of Congress has voted not to put President Michel Temer on trial for corruption.
263 voted against the motion to put the president on trial while 227 voted in favour. 115 short of the number of votes needed to pass the motion.
Opposition lawmakers in the lower house of Congress failed to obtain the two-thirds majority needed to send the case to the Supreme Court.
"On this day where the chamber of deputies that represents the Brazilian people has voted in a clear way , the sovereign decision of the parliament. It's not a personal victory, but it's a victory for democracy and state of law."
Temer has been accused of receiving 11 million euros in bribes from the boss of a giant meatpacking firm.
He has denied the allegation.