Temer looks to avoid Supreme Court corruption trial after congressional committee vote
Comments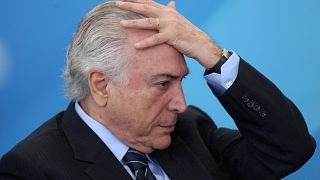 A Brazilian congressional committee has voted against taking a corruption charge against President Michel Temer to trial at the supreme court.
The full house has yet to vote on the matter, which would only be approved if two-thirds of legislators vote in favour.
Although his support has waned in recent months, the leader is widely expected to survive the full house vote.
Temer was charged last month in connection with a corruption scandal involving the world's largest meatpacker, JBS SA.
He was accused of arranging to receive over $11 million in bribes over the course of nine months as part of a graft scheme.
The deeply unpopular president, who replaced the impeached Dilma Rousseff last year, is now in a slightly stronger position going into the full congressional vote.
It will take place on 2 August after a two-week recess.
If the case is taken to trial at the Supreme Court, Temer would be removed from office for at least 180 days.