US company offers employees microchip implants
Comments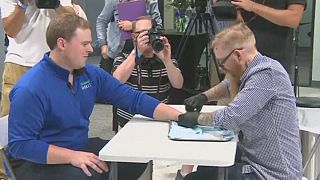 A vending machine company in Wisconsin yesterday (July 2) offered its employees the chance to have a microchip implanted in their hand to buy food, use copy machines and log on to computers.
The chip, which is about the size of a grain of rice, uses the same technology as those used on pets and in contactless cards.
Around 50 employees of 85 at Three Square Market volunteered to have the device fitted at a "chip party".
However, some were less convinced: "I'd just like to know more about the long-term health effects," said one employee.
Melissa Timmins, vice president of sales at Three Square Market, admitted that she was initially apprehensive but now hopes that she will eventually be able to use the chip to open her car or pay for her shopping.