Troops on streets of Rio to fight organised crime
Comments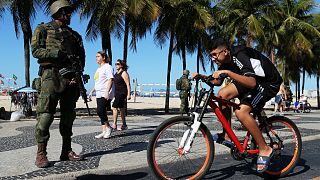 Brazil has stepped up security in Rio de Janeiro amid a rise in violence by organised crime gangs.
President Michel Temer sent 8,500 troops to patrol the city's streets as the authorities recognise much of Rio de Janeiro is out of their control.
The president made a surprise visit to Rio over the weekend accompanied by four of his ministers to discuss the security operation.
He says soldiers on the streets is the just the first phase of security measures.
"A second phase will deal exactly with the direct and objective combat against criminal organisations. And the arms issue. T his is a very worrying topic here in Rio de Janeiro. The number of existing weapons is alarming here in Rio de Janeiro," he explained.
Three people on average were killed each day by stray bullets in the first six months of the year. The mounting number of deaths, plus criminal assaults and increasing shootouts between drug traffickers and police is behind the military presence in the city.
Last year, 85,000 troops were used to bolster security around the venues of the 2016 Summer Olympics held in Rio.
Public security experts say Brazil's worst recession in decades is exacerbating the situation.