Woman calls 911 with boa constrictor 'stuck to her face'
Comments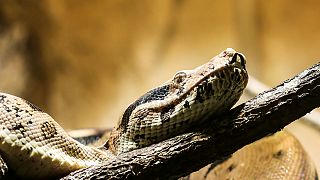 Audio has been released of the moment a US woman called the emergency services because she had a boa constrictor "stuck to her face".
The 45-year old from Ohio can be heard explaining to the operator that she was outside and that the snake had become attached to her face.
"Please hurry, it has got a hold of my nose", she said.
Emergency services were quickly dispatched and had to cut the serpent's head off to the free the woman from its jaws.
She told the operator that she had rescued the snake one day before.