Ousted Pakistani leader's brother lined up as successor
Comments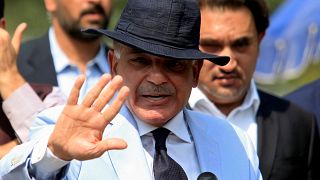 The brother of ousted Pakistani prime minister Nawaz Sharif has been mooted as the former leader's successor, fuelling speculation of nepotism within the Pakistan Muslim League-Nawaz (PML-N).
The ruling party anointed Shahbaz Sharif, but he will first have to be elected by the national assembly.
Shahid Khaqan Abbasi, the former petroleum minister will serve as interim leader until the vote is held.
Opposition leader Imran Khan condemned the move as undemocratic.
He said: "Political parties don't have democracy in them. They are family parties. Families run the parties. Actually it's like a form of monarchy. What they hope to do is to have an interim prime minister and then he will be replaced by the brother Shahbaz Sharif. But the problem is that Shahbaz Sharif himself has been implicated in corruption"
Nawaz Sharif stepped down on Friday after the Supreme Court disqualified him from office over corruption allegations linked to the Panama Papers leak in 2015.
His 65-year-old brother Shabaz must quit as Chief Minister of Punjab and then win a by-election into parliament before taking over, a process which should take 45 days.