Neymar helps Barcelona to Clasico win
Comments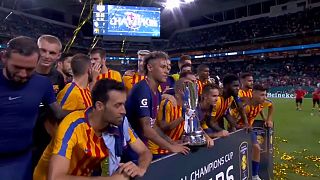 Barcelona drew first blood in the thrilling Clasico friendly in Miami against Real Madrid winning the match three-two. But it's the rumours off the pitch about Barcelona's Brazilian star Neymar's possible 222 million euro transfer to Paris Saint Germain that is grabbing headlines.
And Neymar showed just why he could be worth the money. He set up Barcelona's first goal for Lionel Messi after just three minutes, while teammate Gerard Piqué scored the winning goal flicking home Neymar's curling free kick in the 50th minute.
If the transfer goes ahead, it would smash the world record price of 120 million euros Manchester United paid for French midfielder, Paul Pogba last year.
Barcelona say they are determined to keep Neymar although he is reported to be unhappy playing second fiddle to Messi.
Both teams must have held their breath as the player was injured with the first touch of the ball.
But he quickly rejoined the game unharmed.