Amateur video captures moment fair-ground ride collapses
Comments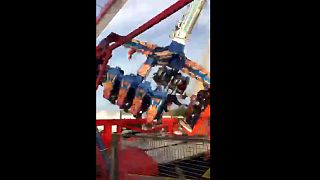 Amateur video has emerged from the scene of a deadly accident at a theme park in Ohio in the US.
A young man died and seven other people were injured when seats on one of the rides at the Ohio State Fair in Columbus snapped off.
The exact moment of the accident was captured on a mobile phone.
The Governor of Ohio, John Kasich, told a media conference: "It's a very, very tough situation when you go somewhere to celebrate and have a great time and your with friends and sometimes with family and you know the fair is about the best things in life, and then tonight with this accident, it becomes a terrible, terrible tragedy."
The governor says all fair rides have been shut down while investigators try to establish what went wrong on the ride called the Fire Ball.
The man killed is reported to be an 18-year-old.
Three of those injured remain in a critical condition.
The ride had earlier been inspected by the authorities, confirmed the state department of agriculture's chief inspector, Michael Vartorella
The popular fair was attended by almost a million people last year.