Senate to consider "skinny" repeal of health bill
Comments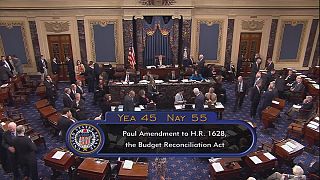 Plans to get rid of Obamacare have hit another stumbling block after the US Senate failed to pass plans to repeal the health care programme.
It comes just a day after the Senate rejected moves to repeal and replace the health law.
Senators will now work towards a so-called "skinny" repeal, which would reduce some of the controversial elements of the bill.
President Trump's election campaign put huge focus on scrapping Obamacare.
But the latest development highlights significant divisions within the Republican Party.
Plans to reverse elements of Barack Obama's healthcare programme have fallen flat recently due to those differences.
Donald Trump will now concentrate on getting the latest thinned-down repeal through the houses.