Yemen cholera epidemic shows signs of slowing
Comments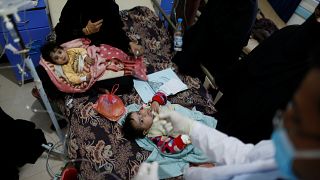 Yemen's cholera outbreak is set to hit 400,000 cases, but there are signs the three-month-old epidemic is slowing, according to the World Health Organization (WHO).
The heads of three United Nations agencies – UNICEF, the World Food Programme and the World Health Organisation – travelled to Yemen to witness first-hand the scale of the humanitarian crisis and to step up combined efforts to help ease the crisis.
A dramatic fall over the past month in the number of people dying from the disease each day, from about 30 to single figures, suggests the WHO's strategy of setting up a network
of rehydration points to catch patients early is working. Cholera is spread by ingestion of food or water contaminated by the Vibrio cholerae bacterium and can kill within
hours if untreated.
The death figures indicate that 99.5 percent of patients now survive in Yemen, where a devastating civil war and economic collapse has left millions on the brink of starvation.
The latest WHO situation report showed 396,086 Yemenis were thought to have caught the diarrhoeal disease by July 24, about 1 in 50 of the population.
New cases are continuing at between 5,000 and 6,000 per day, but the epidemic curve shows that the outbreak peaked about three weeks ago.
But British-based NGO Oxfam projected the number of suspected cases of cholera could rise to more than 600,000, making the epidemic "the largest ever recorded in any country in a single year since records began", exceeding Haiti's in 2011.
Oxfam also warned that the Yemeni rainy season from July to September would increase the risk of the disease spreading further through water contaminated with faeces.