French PM visits areas worst hit by wildfires
Comments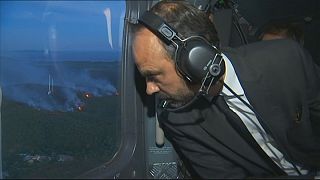 The French prime minister, Edouard Philippe, has travelled to areas struck by wildfires in France's Cote d'Azur region.
Large areas of Mediterranean forest have been destroyed as a result of intense fires over the past three days.
He met with emergency teams as well as some of the twelve thousand people who have been evacuated.
Speaking to reporters he said: "There is obviously a judicial investigation which has been initiated. Because as soon as there is a fire, all kinds of queries and questions are raised by the police department and there will be an investigation, well it's already started, which I hope will enable us to know and identify the reasons for these fires."
Thick black smoke can be seen in the skies over the region and firefighting planes have been dropping water and fire retardant to help control the fires.
In Bormes-Les-Mimosas, where the prime minister visited, many of the evacuated people were staying in a local sports centre while others have slept on beaches.