Texas migrant truck tragedy: Driver could face death penalty
Comments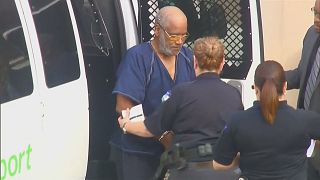 Charged with transporting illegal immigrants, he could face the death penalty.
But driver James Bradley Jr., 60, says he didn't know about the human cargo inside his lorry, according to papers from his first court appearance, claiming that he was surprised when he opened the trailer doors in a Walmart car park in San Antonio, Texas.
Ten of the estimated 100 undocumented migrants inside the sweltering truck have died.
Daytime temperatures in the hours before the truck was found on Sunday had topped 100 Fahrenheit (37.8 Celsius).
10th suspected migrant dies in human smuggling operation in Texas https://t.co/XAMaYycax7pic.twitter.com/fzalGCiX2e

— NBC News (@NBCNews) 24 juillet 2017
Suffering from dehydration and heatstroke, around 30 people remain in hospital. Most are said to be Mexicans, like survivor Adan Lara Vega.
"When we arrived there, the trailer was already full," the 27-year-old said, speaking from his hospital bed.
"Frankly, I couldn't tell you how many people were actually there."
"Did you have water?" he was asked.
"No," he said.
As to why he made the dangerous trip, he declared he needed to.
"There is no work," he said.
Truck driver was making his first appearance in court as the death toll from the human smuggling tragedy rose to 10. https://t.co/ztp6RzX747pic.twitter.com/ckMd1Kxi4R

— USA TODAY (@USATODAY) 24 juillet 2017
Video footage from the scene reportedly showed several mystery vehicles coming to pick up survivors and take them away. Bradley, according to court documents, denied seeing any such vehicles.
Describing desperate conditions inside the pitch-black interior of the truck without water or proper ventilation, one survivor recalled people taking turns to gasp for fresh air through a hole in the trailer's side.
Those inside were as young as 15.
US media reports suggest some of the migrants may suffer from 'irreversible brain damage".
Since 1998, US Customs and Border Protection has documented at least 7,000 deaths among those crossing the border illegally from Mexico.
with Reuters