EU warns Poland over law reforms
Comments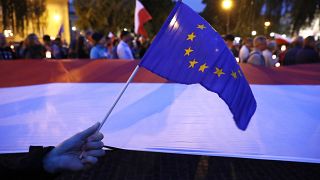 Polish President Andrzej Duda has ratified one of three judicial reform bills which have led to days of protests.
Duda gave a green light to a law which allows the justice minister to hire and fire senior judges in ordinary courts.
Demonstrators say it was not enough that he vetoed plans to sack all supreme court judges.
However, the veto has also put him at odds with the ruling Law and Justice party of which he was once a member.
But it's also put him on a potential collision course with the EU and the US.
Officials are to meet in Brussels on Wednesday to decide whether to use a rare "Article 7" censure process which would effectively punish Poland for not respecting the bloc's common laws or values.
The EU says if planned reforms led to politicians dismissing any judges the would push ahead with action