Efforts to repeal and replace Obamacare clear their first hurdle in the U.S. Senate​
Comments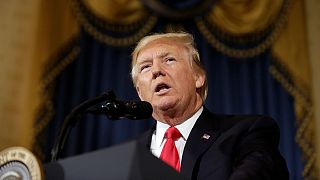 The U.S. Senate on Tuesday voted to begin formal debate of healthcare legislation that would repeal major elements of Obamacare and possibly replace it with a less costly programme.
By a vote of 51-50, with Vice President Mike Pence breaking a tie, the Republican effort cleared an important procedural hurdle in the Senate, but it was still unclear whether there would eventually be enough votes to pass a bill.
​The outcome was a huge relief for President Donald Trump, who had pushed his fellow Republicans hard in recent days to live up to the party's campaign promises to repeal the 2010 Affordable Care Act, commonly known as Obamacare.
Senator John McCain, who has been battling brain cancer at home in Arizona, made a dramatic return to the Capitol to cast a vote to open the healthcare debate. He received an ovation from his fellow senators when he entered the chamber.
Senators Susan Collins and Lisa Murkowski were the only Republicans to oppose the measure. Democrats were united in opposition to the motion to proceed.