Palestinian protesters and Israeli security forces clash in West Bank
Comments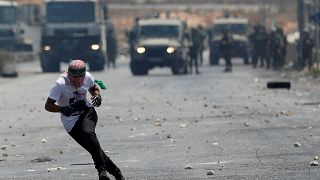 Palestinian protesters and Israeli security forces have clashed in the West Bank settlement of Beit El near Ramallah.
Palestinians are angry about the installation of metal detectors at Jerusalem's most contested holy site.
The security measures were introduced after three Palestinians murdered two Israeli Druze police officers at the site which is known to Muslims as the Noble Sanctuary, the third-most sacred place in Islam.
It is also known to Jews as the Temple Mount and is the holiest site in Judaism.
Israeli troops fired tear gas and protesters pelted them with rocks.