Fencing: Italian and South Korean teams on top in Leipzig
Comments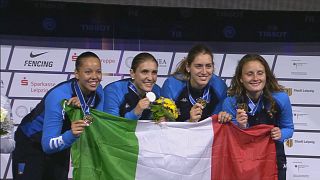 Italy's women team emerged victorious in the world fencing championship in Leipzig in Germany.
The experienced Alice Volpi and Arianna Errigo were too much for the Americans, who found themselves at this stage of the tournament for the first time.
Errigo landed the final blow as the Italians blew away the US 45-25.
South Korea confirmed their place as a force to be reckoned with by crushing Hungary 45-22 in the men's team final.
It's been a gradual rise for the Koreans who were third at the worlds in Budapest, Second in Russia before climbing to the top of the podium at the London 2012 Games.